Olympic Torch Relay - Paris 2024
Passage of the flame in Côte-d'Or in :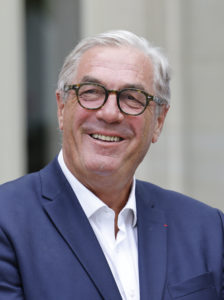 More than two years ago, on November 12, 2019, I announced, in session, the Côte-d'Or's bid to obtain the "Land of Games 2024" label. Since that date, the Côte-d'Or has become a real player and partner of the 2024 Olympic and Paralympic Games.

Our territory, cradle of the Seine, is the ideal territory to train for sports events in many disciplines and to serve as a Preparation Center for the Games by hosting Olympic delegations from around the world.

Yes, the Côte-d'Or is attractive, its territory is diversified: It is conducive to outdoor sports and already hosts, in remarkable landscapes, national events such as the French road cycling championship or stages of the Tour de France... The territory of the hinterland of Beaune and Dijon, classified as a Unesco heritage site, favors the practice of running; a vast network composed of limestone plateaus, forest massifs interspersed with valley bottom meadows whose altitude varies from 200 to 650 meters, represents, from circuits ranging from 2 to 20 kilometers, an ideal training ground for trail running.

Yes, the Côte-d'Or is open and connected; by road, by rail and by air. Thanks to the many airfields covering the territory, it is close to the capital. Its motorway service facilitates access to many European countries. In order to irrigate the entire territory, the Department has also given itself the means to deploy high-speed Internet access throughout the Côte-d'Or.

Yes, the Côte-d'Or is responsible and virtuous, it favors economic development and responsible entrepreneurship, and is a 100% local player: it is committed to promoting local industries, protecting biodiversity and supporting nature reserves.

Yes, the Côte-d'Or is committed because it offers a solution accessible to all foreign delegations through a quality hotel offer, adapted and renovated infrastructures, hospital centers close to the CPJs, in the North Côte-d'Or, in the South Côte-d'Or, in Dijon as well as mobile care centers available at the accommodation sites.

Our ambition in the Côte-d'Or is to give you a warm welcome to allow you to train optimally.
François SAUVADET

Former Minister, President of the Côte-d'Or Departmental Council