During four days, from 07 to 09 June 2022, a delegation of the French Cycling Federation specialized in time trial came to Semur-en-Auxois for a first preparation course. A training course which also allowed 8 cyclists to prepare for the European championship which took place in Portugal from 07 to 10 July 2022.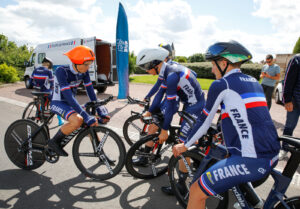 The research and performance unit, which aims to support all cycling disciplines in their quest for medals at the next Olympic Games in Paris 2024, was present.
The FFC relies on the resources and expertise of the ALTEN Group, a world leader in research and development engineering and technological information systems, and the LAAS-CNRS Toulouse research laboratory.
How do engineers and researchers help cyclists improve their performance?
"The concept of coaching is based on the implementation of digital models. To summarize the concept, to go from a point A to a point B, faster than another person, it is necessary to generate a higher average speed. Therefore, there are several possible options such as the one, simple to write, less to realize and not always true in the end, that the cyclist presses harder on the pedals. It is also possible to choose more aerodynamic positions, or even to opt for a more efficient equipment.
It is also possible to modify the distribution of these options, according to the course, the duration, the difference in altitude... The cyclists and the staff are thus faced with very fine and innumerable combinations. The proposed performance support aims therefore, with the help of digital tools, to generate a maximum of possible combinations and then to test them in situation."
The scientific team went to the Semur-en-Auxois games preparation center from May 17 to 18, 2022, well before the riders, to scout the terrain, perform simulations, confront and endure the models built, so that the cyclists of the French Team can use reliable tools.
The FFC plans to organize a next training course on the CPJ of Semur-en-Auxois during March/April 2023.