During four days, from April 17 to 20, 2023, the delegation of the French Cycling Federation specialized in time trial came back to Semur-en-Auxois for a second preparation course.
A training course which also allowed 6 cyclists to prepare for the next events which will be the French Championships in Cassel in June, the World Championships in Glasgow in August and the European Championships in Drenthe in September. The Federation's executives are also looking ahead to the preparation of the Paris Olympic Games.
The support team consisted of 2 trainers, 1 physiotherapist and 1 mechanic. It was reinforced by a team of 4 scientists who accompany the performance on the aspects of effort management.
During the 4 days of training, 5 sessions were carried out, including specific tests against the clock in race condition, on a 7 km course near the hotel. Muscle strengthening sessions were also offered to the athletes.
Among the cyclists, 3 women were selected:
Participates in the Tokyo Olympics and places seventh in the pursuit and fifth in the American event. Also in 2021, silver medal at the World Championships in the American event. In January 2023, French Championship: three medals, silver in the American and the omnium and bronze in the team pursuit.
Professional cyclist; 2020 and 2022 French Road Champion; 2015, 2016, 2017, 2018, 2021, 2022 French Time Trial Champion.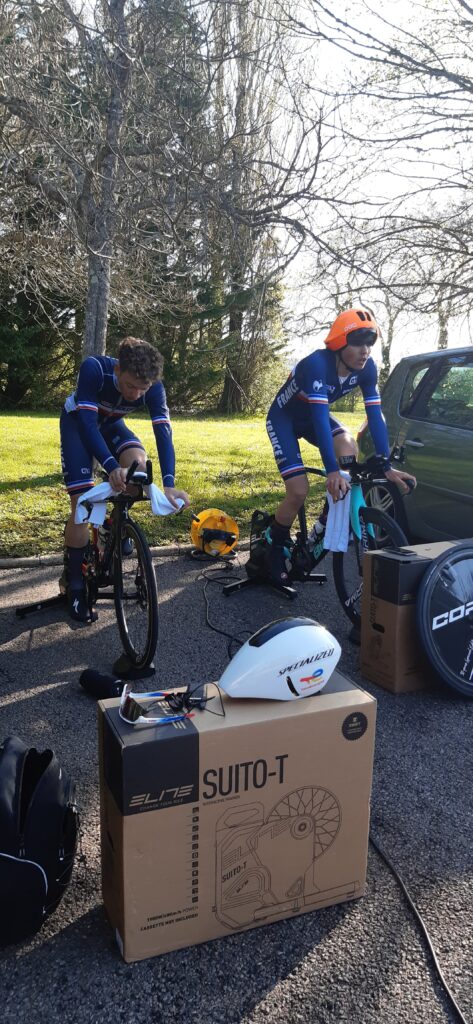 The FFC plans to organize a next training course on the CPJ of Semur-en-Auxois during May 2023